BARRKA is your qualified beninese-german communication and marketing partner in Benin. BARRKA communication is hiding in Cotonou, in the hip district of Fidjrossé Fyégnon.
Hidden is actually pretty good – after all, we have done without office tower and entrance area with receptionist. But there is the internet, and you can reach us by mail or phone.
Admittedly, we were modest with the office and decided to have a small but powerful office in our own house. By the way, the decision for office minimalism was worthwhile for us: we work where others spend their holidays, only five minutes walk from the beach.
Do you want to boost your business? You have questions about the agency? Junior Azonhatin is looking forward to your call at 00229 61758119.
Your contact for questions about artist and event management is Safoura Ousmane – 00229 96724671.
Or write us an email: mail@barrka.com
Letter post reaches us at:
BARRKA, Cotonou 12 BP 223, Bènin
Come by for a cup of coffee
For all those who, despite our warning, are not deterred by a visit and a cup of coffee, you will find below a short description of how to get there.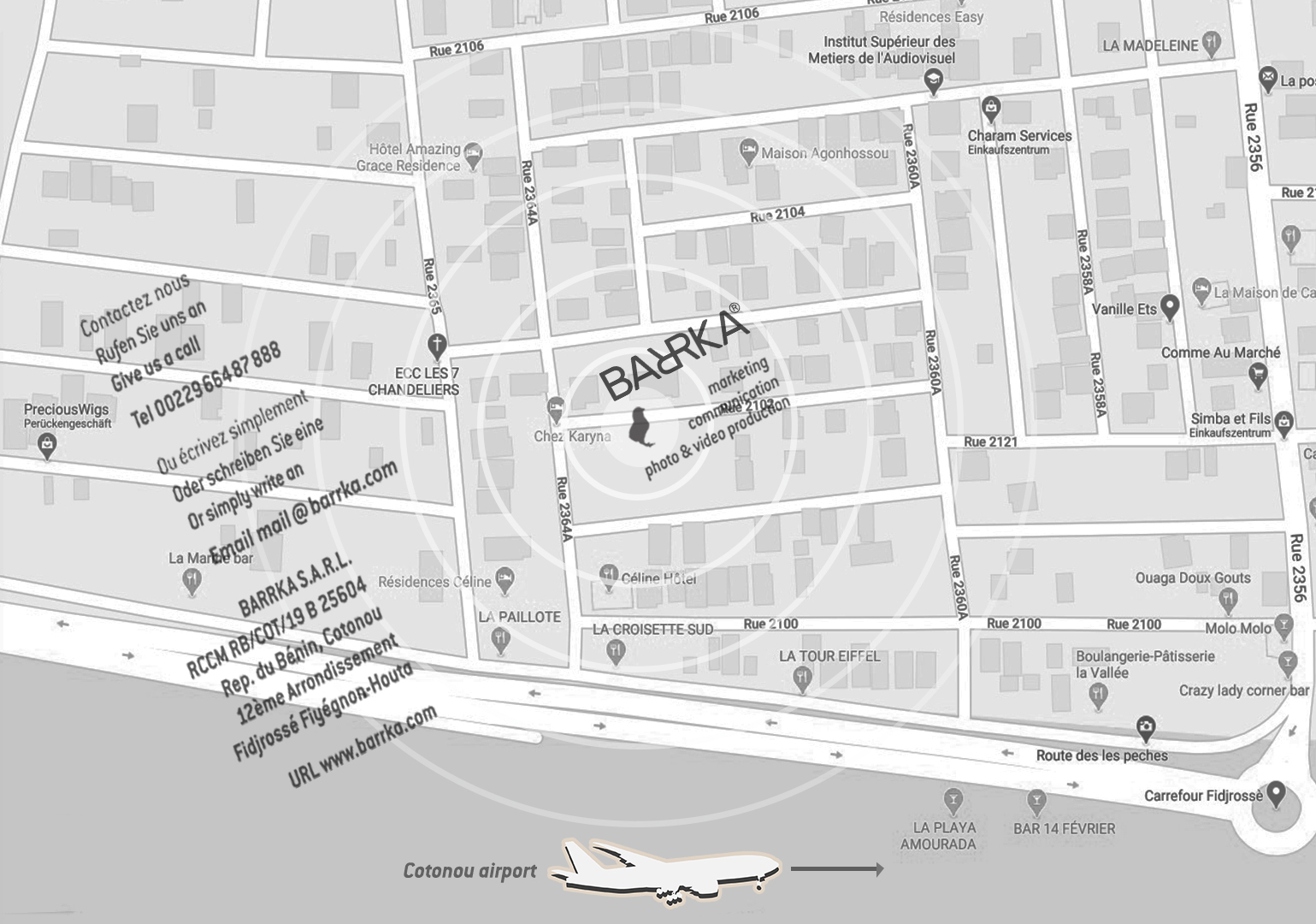 Favourable location
The airport is only a five-minute drive away by car or moped, and the city center of Cotonou with important government institutions, embassies and company headquarters can be reached easily in ten to twenty minutes, depending on traffic conditions.
How to get to us
From the airport you drive towards the beach. At the next bigger traffic circle keep right. After the EREVAN business center with a large supermarket is on your left hand side you continue straight ahead for about three kilometers. The beach and the sea are on your left.
Finally you will reach the traffic circle Carrefour Fidjrossé. You take the second exit. After only thirty meters, you enter the local road that runs parallel to the four-lane coastal road. Immediately after passing the restaurant La Croisette Sud, turn right onto a sand road. Then take the third street on the right and after about fifty meters you will reach your destination.
Don't miss to call us:
For questions about your business Junior Azonhatin at 00229 61758119.
For questions about artist and event management Safoura Ousmane at 00229 96724671.